One particularly fantastic Tuesday, I received a tweet.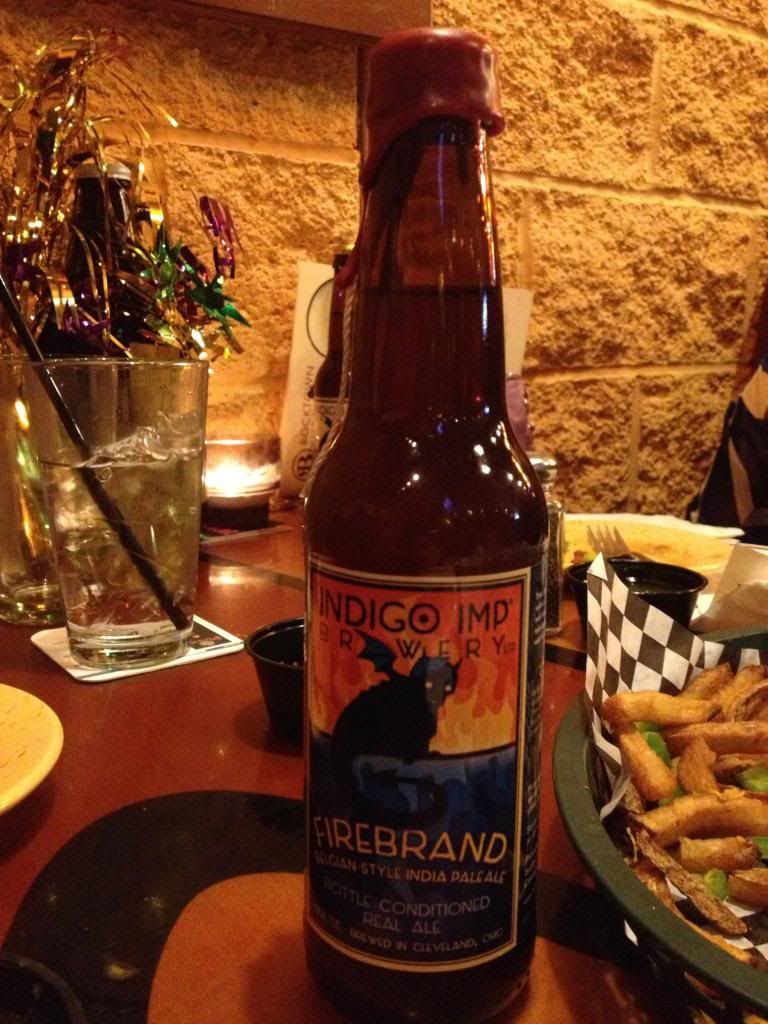 The Bottle selection is
also extensive; this
Cleveland Indigo Imp
had a wax top.
For those of you not from around here, Bocktown is a beer bar and grill with a ton of local foods and a great local beer selection. During Pittsburgh Restaurant Week in January, Allie and I had visited their Robinson location. Posted on the restaurant tables were fliers noting a contest would take place; tweet with the hashtag #frymeasap and you could win fries.
I won the fries. I won endless fries, 'all you can eat' fries, actually.
Bocktown's coordinators for the event e-mailed me acknowledging my "super spudliness", and explained the rules. Three friends and I were invited to Bocktown to eat as many orders of fries as we could, noting, we would "fries until we cries".
Just for the record, these fries are serious fries with serious sides. Check out this menu.
So I sent out invitations.
Three yeses were secured.
Reservations were required; we booked them for the following Tuesday. That Tuesday conveniently also happened to be Mardi Gras. As many of you know, I gave up
alcohol for lent.
What better way to Fat Tuesday than at a beer bar with all you can eat french fries? It's the definition of gluttony.
So we friesed. And we friesed. And we friesed. We friesed with cheese, bacon, and onions. We friesed with gumbo, gravy, and pickles. We friesed with beer kraut, portabellas, tomatoes, green peppers, onion crisps, mozzarella cheese, garlic, basil pesto, dry rub. And we friesed. And we friesed. And we friesed. We friesed until we couldn't fries - we couldn't even cries we had so many fries.
Cries-ing due to Fries-ing
I also ate so many fries that I couldn't drink after 9pm. An upcoming mountain of forty six days of no beer and I couldn't even bring myself to have one.
Mum, being super festive as always, brought a whole stack of Mardi Gras beads and was handing them out to our waitresses.
Allie and I
ultimately rolled ourselves out of the booth and went over to Target across the way to ramble down the aisles until our stomachs settled.
It was SO good. Thank you Bocktown for the fantastic event. Though I've sworn off fries for quite some time.