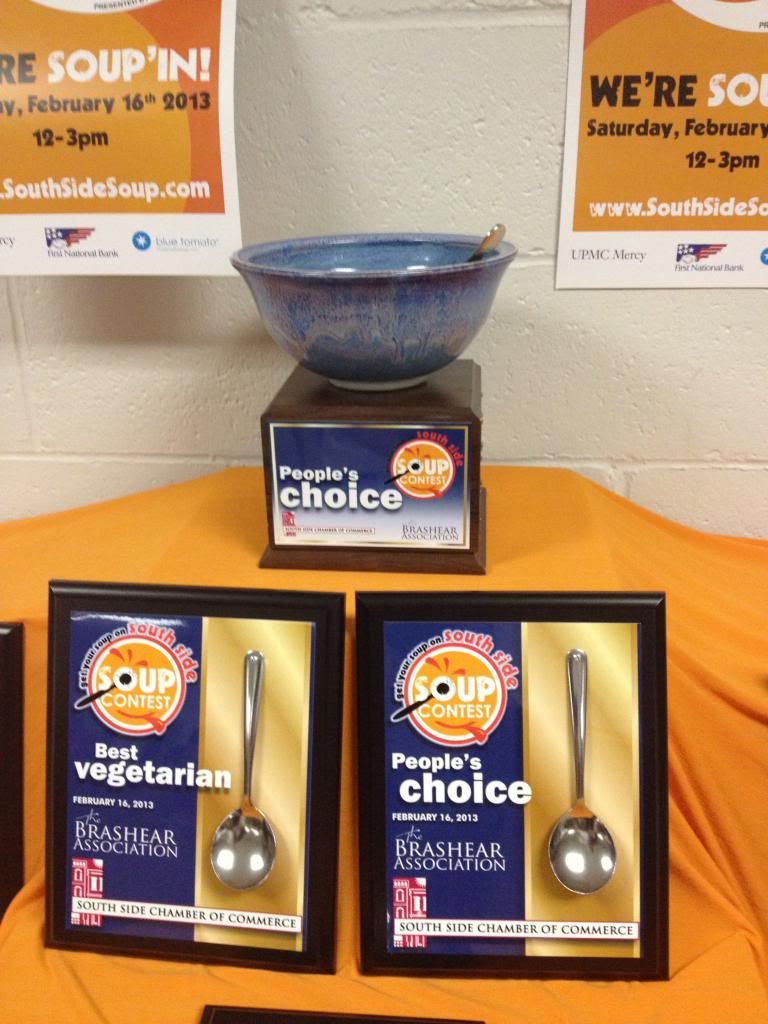 On Saturday,
Allie
and I participated in the
South Side Soup Contest
. For anyone unfamiliar, every year various locations in the South Side prepare different kinds of soups in hopes to win the "Lombardi trophy of soup", shown to the right. Proceeds of this event support the Brashear Association, which enriches the lives of families in the south of Pittsburgh. I was told this year ~1,100 tickets were sold out in 20 minutes.
In 2013 there were 23 contestants, preparing up delicacies such as Crocodile Andouille Gumbo, Sunflower Soup, Pittsburgh Crab Bisque, Beef Oxtail Barley, Roasted Butternut Squash, and even a Bone Marrow Bisque (let me clarify: not human bone marrow, as Allie was concerned about). Some options were vegetarian, some even vegan.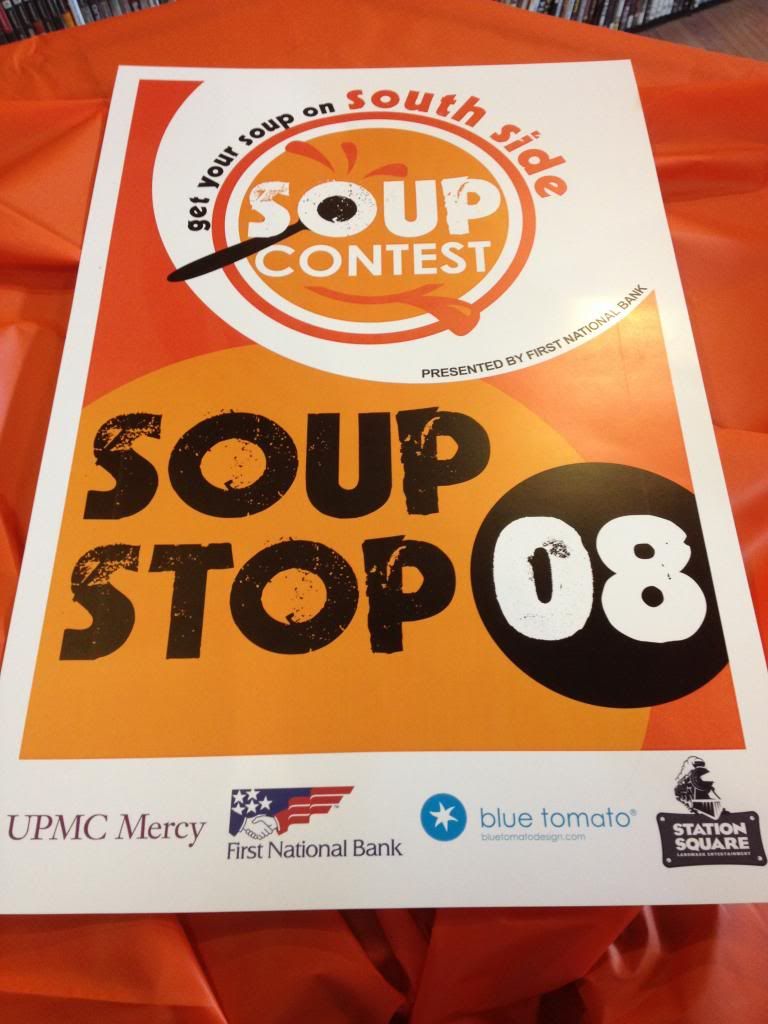 Each chef was stationed to serve their soup at a place of business other than their restaurant. The hosting varieties included a flower shop, bike shop, bank, a dentist's office, and multiple others. The route spanned 17 blocks, so it was a workout included with the soup noshing - probably good to burn off the roasted pepper & leek beer cheese!
Allie and I were placed at Last Call Entertainment to serve Tootie's curried sweet potato soup. I had a ton of fun meeting the participants and dishing out the goods. Super tasty, and Tootie's has quite a reputation for a killer sandwich. I'll have to check that out soon - as should you, their restaurant is on 16th St. Multiple people who stopped by our station exclaimed their love for these sandwiches.
I wasn't expecting to find anyone I knew, but my parents surprised me at the event. How they manage to snag tickets to everything, I'll never know, but I was very excited to see them there. Funny how that doesn't get old.
Attendees could vote for the soup station of their choice for four categories:
Best Soup (Overall)
Best Veggie (Vegetarian and/or Vegan)
Most Unique
Best Host (Best Location)
In my personal opinion, Piper's Pub Boxty & Rasher Chowder was #1 for best soup (they did end up winning). The OTB Bicycle Cafe Bodacious Biketater Bisque took my Veggie vote, and Yo Rita's Sunflower Soup snagged my most unique. The best location -- well, I'm biased of course towards my spot -- but I was also partial to Commonwealth Press. They had a cornhole tourney going on. I mean, come on. How awesome.
Have to say though, thanks to all of the restaurants handing out free drinks & food tickets, and to all of the hosts, and to all of the specials for the day all along Carson St. Seriously made it for a souper Saturday.