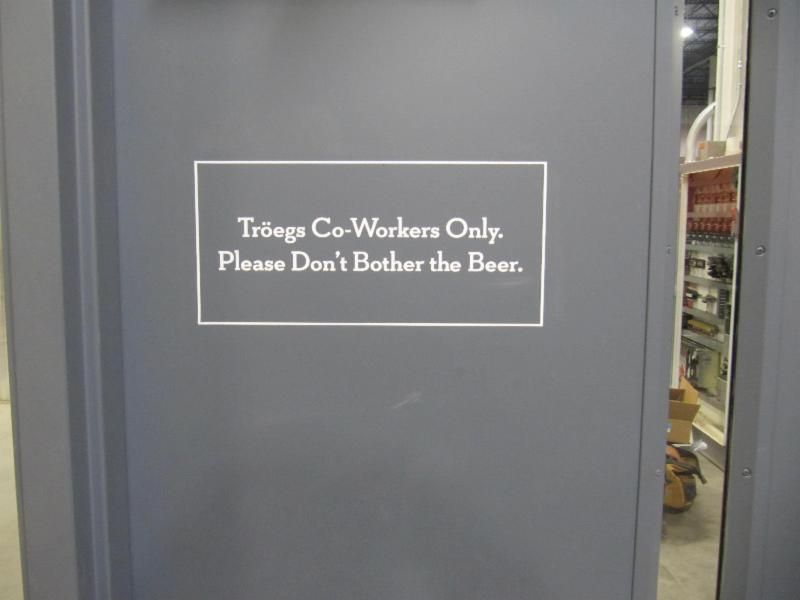 Troegs Co-Workers Only. Please Don't Bother the Beer.
JLo and I had tossed around the idea of visiting the much loved Dogfish Head Brewery in Delaware for my birthday weekend. But after Dad reminded me about the recent opening of the new Troegs brewery in Hershey, and subsequently mentioned he'd be willing to go too, our decision was made for us.
If you recall, on my Summer 2011
to-do list
was visiting the Troegs Brewery. I'd never been there before and prior to the trip I had not known they were in the works of creating a whole new brewery in Hershey, PA. And no better could our timing have been - the old brewery is now closed. JLo and I made it just in the nick of time.
The new brewery is pretty cool. Very big, very clean, lots on tap and even a few basic food selections. Brownies made from beer? Yes, please! Pretzels? Of course! And you can even add organic vanilla ice cream to your beer to make a beer float. Thanks Alex for buying that one for me!
Also available is a self-guided tour of the brewery. You are separated from the actual brewing merely by glass. It's like walking through a factory where you observe the process as it is taking place (hence, the notice on the door). Very cool.
(Beer glasses) Not a bad shot for the new iPhone! Nice digs!